NYC WORKSHOPS
​ Painting by Mary Frank

ONE-DAY EKPHRASTIC WORKSHOP
at the Hudson Valley Writers CenterThe Ekphrastic Moment: Pictures Out of WordsSunday, Jan. 15th, 12:30-4:30pm ET on Zoom
Register here.With images being central to so much poetry, visual art, the sister art to poetry, provides a rich storehouse of imagery for our poems. Using one reproduction or a series of reproductions, in this hands-on workshop, we try out different approaches to creating the ekphrastic moment in our writing. Please bring at least one reproduction of a piece of visual art (or else a small series by the same artist) that you want to engage with for this workshop. The aim is to generate drafts of one or more poems.Sharon Dolin is also available for one-on-one manuscript consultations online, by phone, and by Zoom video-conferencing.
​Writing About Art in Barcelona
June Writing Workshop
Due to Covid-19, workshop will resume in the future.​
This intensive workshop provides a small group of writers the opportunity to respond in poetry and prose to the rich cultural heritage of Barcelona. Visits include: the Picasso Museum, Miró Museum, Antoni Gaudí's Parc Güell, and one of Gaudí's houses. Plus a private visit with a local poet.

Participants will stay at a beautiful boutique hotel in Gràcia, a peaceful neighborhood of plazas, plentiful restaurants, and pedestrian streets with easy access to all sites in Barcelona.


​
Castellers in Barcelona

Projected Schedule:
​Day 1: Arrival in a.m. Welcome Lunch.
Visit Parc Güell.
Day 2: Visit Picasso Museum.
Day 3: Visit Miró Museum [Optional: Cable car to beach]
Day 4: Guided Visit of Gaudí house.
Day 5: Free Afternoon. Castellers practice in eve.
Day 6: Local Poet Visits and Lunch. Visit to MNAC.
Day 7: MACBA or CCCB. Public Reading in Evening.
Day 8: Departure Day

WRITING ABOUT ART IN BARCELONAMost days begin with a 2-hour workshop
(11 a.m.-1 p.m.) followed by a lunch break.Workshop and Tour Fee: $1200 includes:

Daily workshop
Entrance fees to all museums & cultural sites
Welcome lunch
​Lunch with Local Poet​ ​

​

Applications for any given year will open on January 1st.
Apply by April 1st. To apply: Send 2-3 poems or short prose pieces to writingbarcelona@gmail.com.
​For questions contact Sharon Dolin.
What Participants Are Saying
Sharon has created a rich experience for seasoned poets and those relatively new to writing poetry. If you can go, go!​—2018 participant

Writing About Art in Barcelona changed my life! I got to live like a local while bonding with other poets, and I made use of its fantastic location to soak up as much culture, history and art as I could.—2017 participant

Sharon Dolin is a broadminded—and -hearted—workshop leader and guide. I have a new sensitivity and concrete approaches for understanding and generating poetry.—2016 participant

The collision of art, architecture, and poetry gave me the artistic inspiration and emotional space to do some of my best work. I want to do it again!—2015 participant

I LOVED Barcelona & I LOVED the workshop. One of Sharon Dolin's great gifts is her ability to attract people who are really serious about writing & who will work harmoniously & creatively towards making good poetry.—2014 participant

Watch a short video here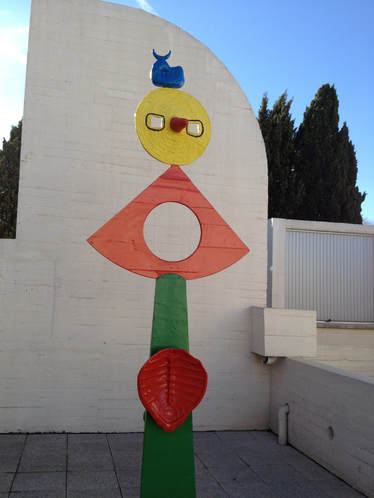 Joan Miró, The Caress of a Bird